This tab contains the list of HIDs. To enable monitoring a device, select it in the list. Note that a USB device can be compound, i.e., one physical device may represent several logical devices. The HID list contains logical devices.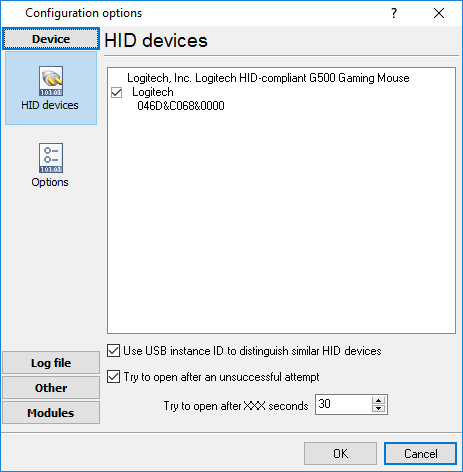 Fig.1 HID list
Use the instance number to differentiate between similar devices – enable this option if you have several similar devices connected to the computer. In this case, the program will use the number of the physical USB port to differentiate between these devices. However, the devices need to be always connected to the same ports. If you have only one HID, you can disable this option. In this case, the program will control this HID model connected to any port.
Try to open again after a failed attempt – if this option is enabled, the program will wait till the device appears and automatically start logging data from it in case the HID is connected and disconnected periodically.